Exactly one week ago today I hit the stage at my very first pole dancing competition, the Vertical Love Great White North Pole Competition (GWN). Myself, along with 16 others from Studio Chic, performed and placed in a variety of categories from pole, to chair and groups. I think I speak for most of us when I say that the main inspiration for signing up for this competition came from SC Instructor Suzy and I think a quick thank you is in order for that! Thanks for pushing us all to sign up, it was a great learning experience and so much fun!

My motivation for signing up mainly comes from the fact that I love performing. Though I do not have a dance background, I love putting together my own pieces and executing my vision on stage. My main goal was to make it through my entire routine without forgetting any of my choreography. This is something I have always struggled with and I am happy to report that I accomplished that goal at GWN!


PREPARATION

Competition preparation started for me around four months ago when I began narrowing down my songs. I listened to my choices intently and created themes/storylines for all of them. Once I finally decided which one I loved the most, I started to think about which tricks I wanted to feature in my routine. When I started doing this I began to realize that I had not learned any new tricks in a long time and wanted to challenge myself further by adding a few new ones to my repertoire. I proceeded to book a few private lessons to clean up old tricks and learn a few more. By doing this, I was able to add a few tricks such as the Shooting Star, Thigh Hold, and Knee Hang, and put new combos together that I'd never done before such as Bow & Arrow to Butterfly. If you can spare the extra cash or catch a Studio Chic Sale, I would highly recommend signing up for a few private lessons every now and then. The special attention and corrections you get are so helpful in furthering you in your pole journey and giving you lots of things to work on during practices whether you are preparing for a performance or not.

Two months out from the big day, I sort of fell off the competition train and became highly un-motivated to continue training and finish my choreography. August's SC Blog post covered that exact topic and discusses some of the tactics I used to get myself back on track. What really helped was a concerned phone call from a friend to get me to finish that choreography and I was off to the races. Due to my lack of motivation, I had lost a little strength and flexibility, as well as time, for the competition. I refocused on my main goal of completing and memorizing my choreography and spent the majority of my effort focussing on that. I work best using choreography sheets such as the ones I made for this competition. Lyrics, time markers, spin/static pole marks and trick notes all help keep my vision on track along with video recording my choreography over and over. I would recommend choreo sheets to anyone who is an organization snob like me.




LEADING UP TO THE COMPETITION

Tuesday before the competition I did my final run through so that I could rest in the days leading up to the competition and finish my preparation on a high note. I tried my best to eat well, stretch and go to bed early for the rest of the week. On competition day, I packed my bag with essentials like my costume, dry hands, headphones and a few extras like safety pins, a snack and double sided tape. My hubby and I hopped in the car to head to the early rehearsals at the venue Bay City Music Hall in Hamilton, ON. The organizer of the competition, Fran, allowed time for each performer to run their routine on stage before the show to get a feel for the poles and the size of the stage. To save my energy (and my best performance for last!) I opted to just mark my choreography out, instead of performing each trick. I would recommend this going forward to anyone who performs in the future as I really think it makes a difference. We spent the rest of the day applying makeup in our cars and killing time until stage time!





COMPETITION

For the record, I competed in the Entry/Amateur category at GWN and there was a three points of contact minimum requirement for everyone in our category. I learned that there would be five judges critiquing our performances who came from a variety of different backgrounds ranging from ballet to pole. Scoring would be done based on the Benchmark System meaning the first person to perform in each category would be the "benchmark" and each performer thereafter would have points added or deducted based on the benchmark score.

Being the second category on stage, I chose to stay in the green room until my stage time. I tried to stay warm, stretch a little and not freak out. The time seemed to drag on forever! I listened to my song, "Human (Acoustic)" by Jon Bellion over and over, running the choreography in my head. I tried to stay hydrated, but not too hydrated (haha!) and before I knew it, it was my turn to hit the stage. Here's a picture of my beautiful costume on stage!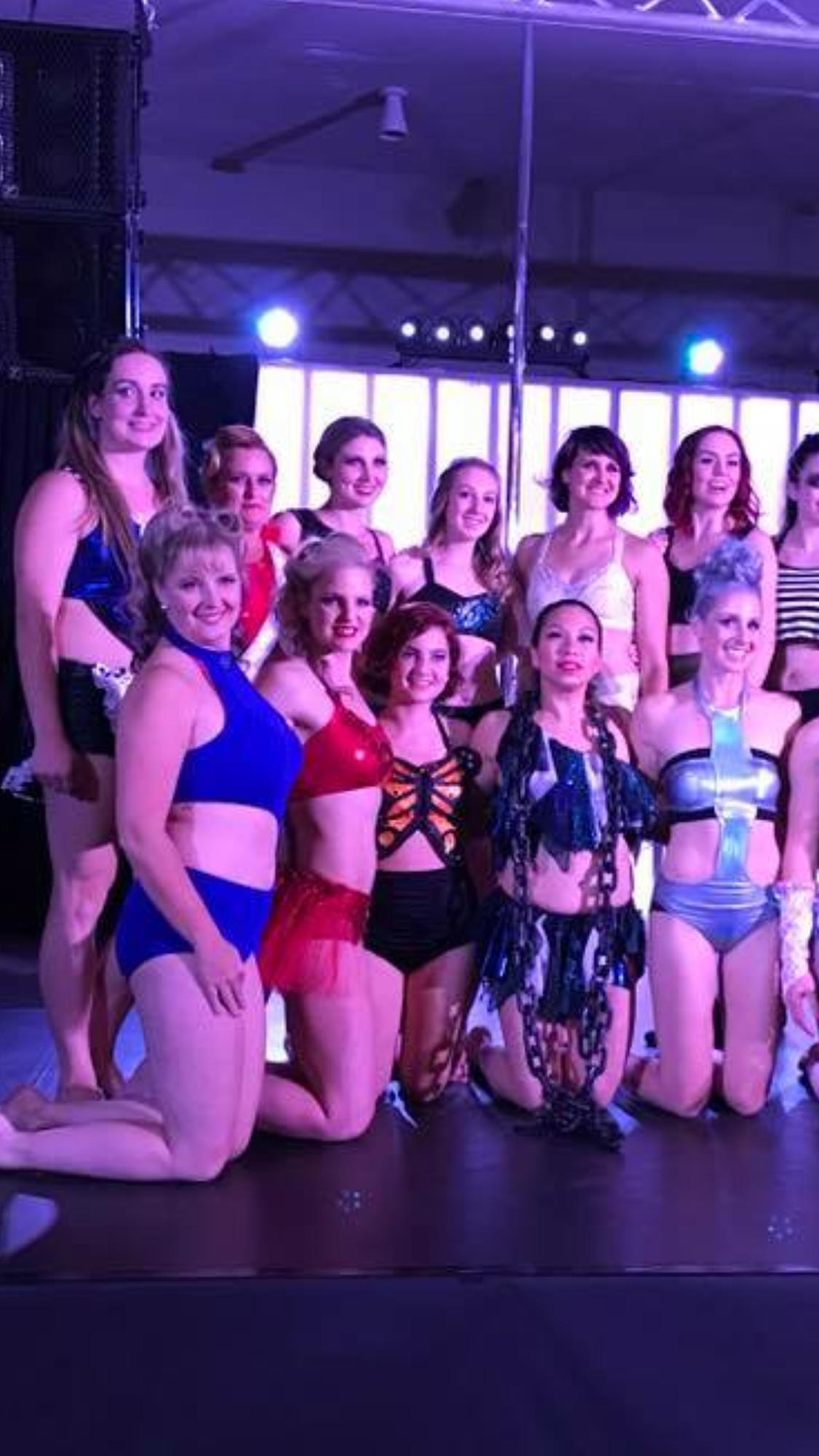 WHAT I LEARNED & WHAT'S NEXT

I learned a lot from my performance. Firstly, my mom makes great costumes. I came to her with a vision for a Monarch and she made it come to life. You do not have to pay hundreds for a costume with a little imagination and some time. I paid around $75 for everything to make my costume

As for my scoresheets, I learned that Theme + Musicality are my strong points, the biggest thing I need to work on is my Flexibility. Though I did not place, I am so proud of myself for remembering all of my choreography and delivering a performance that was truly me. I learned that keeping myself motivated is really important when preparing for a competition and that practicing by myself is not always the best solution. Most importantly, it may be a competition, but I am really only competing against myself. As for what's next? I will definitely be performing again and I have a lot to improve on in my pole journey.


Over the weekend, our Studio took home a number of awards. Not surprisingly, every single winner from SC is an Instructor!




MASTERS DIVISION
First Place - Christie
2nd Place - Kelly

PRO DIVISION
2nd Place - Suzy

GROUP DIVISION
1st Place - Sam

RAZZLE DAZZLE
1st Place - Suzy

ESSENTIALS DANCE
3rd Place - Heather

PEOPLE'S CHOICE
Heather - Essentials
Sam - Group Division


I wanted to say congratulations to the entire pole family on a fantastic competition! To all those that performed, won, attended, and cheered us on from a far, I am so thankful to have a support system like Studio Chic. I think I can confidently say that our Studio Chic #polefamily won the Spirit Award over the weekend! A special shout out to our pole mamas, Andrea and Tracey, who brought a stemmed rose for every single performer. We all felt so much love <3 Congratulations to all!